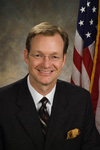 As Democrat presidential candidates Barack Obama and Hillary Clinton have been arguing over whose more pro-abortion, Missouri gubernatorial candidates Kenny Hulshof and Sarah Steelman are trying to prove themselves to be the most pro-life candidate. From the KC Star:
There's Kenny Hulshof…backing a tough anti-abortion bill in Jefferson City and saying in his first TV ad, "Missouri and her land are blessed by God."

Counters Steelman in her ad, "Life is precious at any age."

Hulshof, "the conservative" for governor, emphasizes his opposition to early stem-cell research. Steelman labels herself a fiscal and social conservative and talks about her work in the state Senate banning gay marriage and late-term abortion.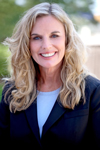 The focus of this has mostly been about embryonic stem cell research and some questionable donations accepted by each candidate:
Hulshof's camp criticized Steelman for accepting $1,275 in December from Supporters of Health Research and Treatments, a pro-stem-cell research group. Campaign records showed the gift, but Steelman's campaign failed to report receiving it…

Steelman's camp countered that the donations did not alter her "100 percent" pro-life stand and unwavering opposition to embryonic stem-cell research.

A couple of days later, the Hulshof camp struck again, saying Steelman also had accepted two $250 donations in 2004 from Virginia and James Stowers, founders of the Kansas City-based Stowers Institute, which supports research involving embryonic stem cells.

Then it was reported that Hulshof had accepted a $2,500 contribution linked to James Stowers during the 2006 election cycle.

The Hulshof camp replied that it came from the American Century Companies Political Action Committee and was not directly tied to Stowers or stem cells.
According to Missouri State University political scientist George Connor, both camps are trying to mend a breach in the MO party caused by Gov. Matt Blunt and his support for cloning and embryonic stem cell research.
"Both Steelman and Hulshof see that fissure, and they're going to try to repair it (because) it's a way to get at a bigger chunk of voters. Both of them are trying to get those two pieces back together again."
Few of the legislators will likely admit it, but Gov. Blunt's position on these issues has caused some problems for pro-life Republicans in the MO Legislature over the last four years. Since taking office Gov. Blunt has actively opposed multiple measures to ban human cloning in Missouri, supported 2006's Amendment 2, giving MO scientists a constitutional right to clone and destroy human embryos for scientific research, and called for the approprion of State funds to Missouri institutions that support life destroying research.
It will be interesting to see how this game of political leap frog will play out over the next few months. The Republican primary is on August 5.