**9/7/10 Correction: St. Louis has TWO active abortion facilities: see this post for more.**
It's been speculated for a while, but now the president of Planned Parenthood of Kansas and Mid-Missouri has finally confirmed it:
COLUMBIA — Planned Parenthood's Columbia clinic has temporarily suspended its abortion services due to "scheduling issues," leaving a St. Louis center as the only functioning abortion clinic in the state.

The Columbia clinic halted its abortion services two weeks ago, said Peter Brownlie, president of Planned Parenthood of Kansas and Mid-Missouri. Brownlie said he doesn't expect the stoppage to be "lengthy," but couldn't say when Columbia's abortion services will resume.
Of course that's still one abortion facility too many, but this is EXCELLENT news, nonetheless.


For over a year now there has been a regular, weekly, prayerful presence outside this abortion facility as well as two successful daily 40 Days for Life campaigns. According to Kathy Forck, the director of these prayer vigils, no abortions have been done at the Columbia Planned Parenthood since August 9! Now we know why. And praise God for that! Any time an abortion facility has to "suspend" the killing of innocent human beings, even for a short time, it's a good thing. Not only does it mean that fewer babies are being killed (though some women surely will be convinced to drive an extra couple hundred miles for their abortions), but it means lost revenue for Planned Parenthood. As a for-profit business that makes it's money on the murder of innocent human beings and, when it's not doing that, on promoting the sex crazed culture that accepts the murder of innocent human beings, any dip in their profits, for whatever reason, is a giant plus in my book. Now if they would just permanently close their doors altogether!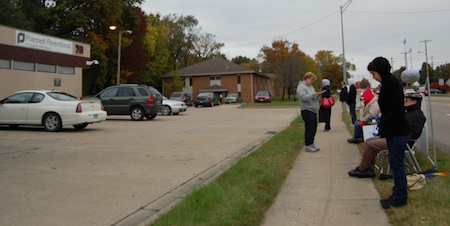 Since they started coming to this facility, sidewalk counselors and spiritual supporters have helped save many lives and change many hearts. Up till now their "off-season" (non 40 Days for Life) vigils at this PP have been limited to the one day of the week when abortions were actually taking place inside. But, even though they are not committing abortions now, Kathy assures me that the weekly pro-life presence there will continue as long as women are still going in for pregnancy tests and possible abortion referrals – not to mention the deadly "morning after pill."
With the fall 40 Days for Life campaign just around the corner (Sept. 22!), they will be looking for more volunteers to come help them keep peaceful vigil daily. If you are in the Columbia/Jeff City MO area find out how you can help here. There is also a campaign in St. Louis or you can find a location near you.
Previous posts:
Columbia 40 Days for Life in the News
Pics: 40 Days for Life, St. Louis