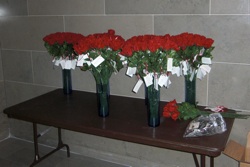 Thanks to all the volunteers who helped deliver roses for life to all of our Missouri state legislators. Each legislator received one red rose with a card that read:
Every child, like the rose, is an autograph from the hand of God

The rose's beauty and perfection is evidenced while still just a tiny bud, which gradually matures to be the most beautiful of all flowers.

Every human being was once a tiny bud, unseen, but nevertheless the wondrous work of God.

–Missouri Right to Life
Be sure to mark your calendars for the pro-life lobby day this March 10. See flyer.